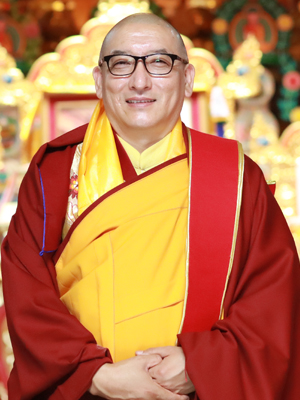 Khenpo Karma Dawa
Khenpo Karma Dawa, was born in 1969 to father Dondup and mother Yangzom, in a small village of Ripchet, Chum in Nepal. He was named as Dawa Tsering by Lama Gelong Sarkyid. The young Dawa Tsering was very enthusiastic about practicing the Dharma and entering the monkhood. At the age of eight, he began to learn how to read and write in Tibetan from Hamthang Lama Rinpoche, a renowned lama from his hometown. He also received the empowerments and especially the teachings of the Nyingma lineage known as Drubkhor Namsum (Three Practices of the Terma Tradition) from Hamthang Lama Rinpoche at an early age of ten. He practiced these teachings diligently, starting from the preliminary practices of one hundred thousand prostrations to advanced practices such as the generation and the completion stages.
At the age of thirteen, he joined Thrangu Tashi Choeling Monastery near the Boudhanath Stupa in Nepal. He was ordained by Khenchen Thrangu Rinpoche, tutor to His Holiness the 17th Gyalwa Karmapa Ogyen Trinley Dorje. He was thus bestowed with the name Karma Dawa. Karma Dawa received his complete monastic education and monastic vows from Thrangu Rinpoche at Thrangu Tashi Choeling Monastery. In 1986, he enrolled at Vajra Vidya Institute which was also established by Thrangu Rinpoche. He studied the Buddhist philosophy of both the Tantra and the Sutra traditions along with the Tibetan Literature here. After completing his studies, he practiced the preliminary practices of Mahamudra for one whole year. He applied himself to both the scholastic learning and practices of the Kagyu tradition. He then served as the Nyerpa, caretaker of the monastery's food supply and other related affairs, at Thrangu Choeling Monastery for three years.
In 1992, Thrangu Rinpoche appointed him to oversee the construction of the Vajra Vidya Institute at Sarnath, the place where Buddha turned the first wheel of dharma. He was later appointed as the person-in-charge of Thrangu Rinpoche's Dharma Center in Hong Kong. Due to his complete devotion to Thrangu Rinpoche, the wellbeing of the monastery and the Dharma of all, he was given the higher degree of Khenpo Rinpoche by Thrangu Rinpoche on 17th November, 2016. Khenpo Karma Dawa has worked for the Buddha's teachings and the benefit of all the sentient beings for many years, and his dedication continue to flourish till date.